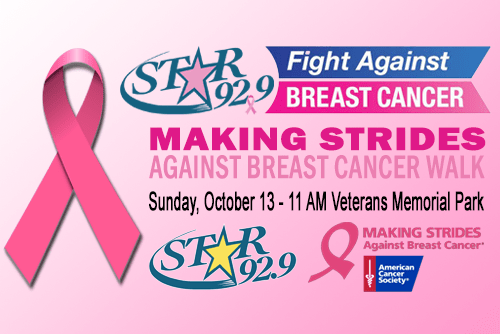 Every Dollar Makes a Difference
Whether we've faced it ourselves, or someone we love has, almost everyone has been affected by breast cancer in some way. But at the same time, we can all do something about it. By donating to a Making Strides Against Breast Cancer event you're helping the American Cancer Society make a difference in so many ways, from funding innovative breast cancer research to simply providing a hand to hold.
Making Strides Against Breast Cancer walks unite communities behind the American Cancer Society's efforts to save lives from breast cancer.
11:00 AM – Registration
11:30 AM – Opening Ceremony
12:00 PM – Walk Begins – Choose to run the 5K loop or walk the 5K loop (approx. 3.1 miles).  Or you can simply walk the 1 mile portion.  Runners will start at Noon, 5K walkers will begin at 12:10 PM and 1 mile walkers will begin at 12:15 PM.
We all walk together rain or shine, so be sure to check the weather forecast and dress appropriately.  Wheelchairs, wagons, strollers, and walkers are welcome at the event.  Please … no Pets or Bicycles.
Welcome to our Team Page. We've formed a team because this cause is important to us. We want to help. And walking and raising money in our local American Cancer Society Making Strides Against Breast Cancer event is the best way we can do that.