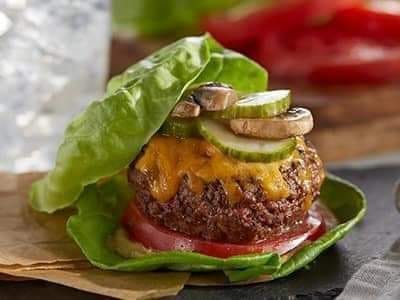 Burger with lettuce bun
1 lean – 3 greens – 2 condiments (per serving)
4 servings
Ingredients:
¾ beefsteak tomato sliced into 4 (None thick rounds)
½ tsp ground black pepper divided
¾ cup thinly sliced cucumber
¾ lb. 90% lean ground beef
8 large lettuce leaves – iceburg
1½ cups sliced mushrooms
1 tbsp Dijon mustard (optional)
3 oz. reduced-fat shredded cheddar cheese
½ tsp salt divided
3 tbsp water
3 tbsp white wine vinegar
For one serving, spread 1 teaspoon of mustard on 1 leaf of lettuce and top with 1 burger patty, ¼ of the mushrooms, 1 slice of tomato, 4 slices of pickles, and another leaf of lettuce.
pickles – Put sliced Cucumbers in jar or bowl with 3 tbsp White Wine Vinegar
Note: For medium-rare, cook the beef to an internal temperature of 125°F; for medium to 135°F; for medium-well to 145°F; for well-done to 160°F.