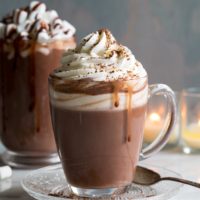 Christmas Creamy Slow-cooker Hot Chocolate!
1 1/2 cups heavy cream
1 (14-ounce) can of 

sweetened condensed milk

2 cups milk chocolate chips
6 cups of milk
1 teaspoon vanilla extract
DETAILS
Servings 6
Preparation time 5mins
Cooking time 20mins
Adapted from facebook.com
Rich, thick and creamy Hot Chocolate with a dash of vanilla made in a Crockpot. Enjoy!