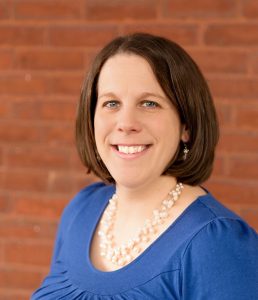 We have a bottle warmer. The Tommee Tippee Pump and Go warmer. 4 buttons. Current temp of the bottle to be warmed, plastic, glass, or milk bag, size….and start. It beeps when it's done….don't have to worry about a thing.  We have a mini-fridge in my husband's sports den. The warmer and the fridge have been our best friends since Charlotte was born.
I recall messaging a friend when they were expecting with a response of 'do we need one?'. We gifted them one that has a cooler built in so you can store 2 bottles with the warmer on your nightstand. 1 week after the little one I get a text 'omg that thing is a game changer'.
We have a travel warmer from Tomeee Tippee. It has a thermos style container you fill with piping hot water and a outer cover that serves as the cup/warmer. More than once I've been thankful I filled that bad boy up before I left the studio to pick the kiddo up at daycare only to have her sing the songs of her people halfway home because she was hungry….again. (Growth spurts, I tell ya).
I love a good bottle warmer. What I don't love is only having one. I used to lug the plug in warmer up and down the stairs daily to accommodate her demanding feeding schedule when we were on leave. That was a pain.
One day my husband had the idea of just going 'old school' putting the bottle in a mug and warming it with hot tap water. (Because we were mildly lazy and didn't feel like going all the way upstairs to warm the bottle in the warmer…go back down again…the mug method was faster than getting the warmer).
Then it hit me while making coffee. HOLY CRUD. The Keurig. The machine that makes my coffee excruciatingly hot, was much hotter than tap water…can…warm…a…BOTTLE!!!
If you're traveling to a friends house and they have a Keurig machine or something similar, brew a cup of hot water (no pod in the machine…just water). Pop the bottle in the cup with the hot water. BOOM! Worked great. By the time I break down and get another warmer…she'll be off bottles.
Another hack I stumbled on is laminate flooring. We have the most comfortable rocking chair. I searched far and wide for it, finally found it, we lugged it home, set it up in our bedroom as we decided baby was the room in with us for easy access for the first few months. (Probably year at this point).
You couldn't rock the chair. It worked fine in the store! Was perfect in the living room when we set it up! What the heck?! The carpet. Our carpet is super soft and plush in the bedroom with is easy on the toes. It's lovely. But turns a nice rocking chair into….a chair.  After a few months of TRYING to rock her in that chair and our legs getting quite the workout trying….it dawned on me I had some left over flooring from when we did the floors in the hallway. I put together a 6×6 area of flooring, plopped the rocker on it. Works like a charm! (You have to be careful not to stub your toes on the edges but it'll work until she gets moved into her own room).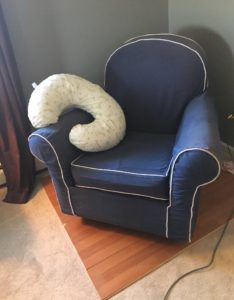 Back up formula: We have a habit of making bottles in advance so they're ready to go for the entire day. It works great. Until we travel. We pack a cooler but if she its a growth spurt, we end up staying longer than expected somewhere, a bottle gets spilled (has happened more than once). I've packed dry formula in tiny tupperware but the lid can come off in the diaper bag. Do this…the 35ml containers by Medela. we got a bunch from the hospital when Charlotte was born and I was learning to pump and she was getting donor milk. Those containers fit 2 scoops of formula PERFECTLY. That will give you a 4oz bottle. I usually pack 2 just in case.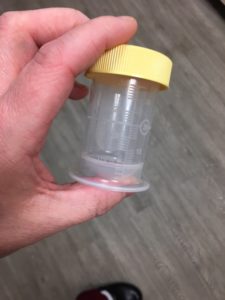 Sometimes I feel like I don't have it all figured out…but when I stumble  upon ideas like this…I feel like a genius!