Mary Cenci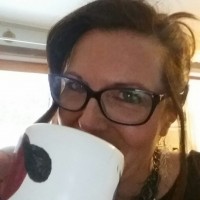 Mary Cenci
Mike and Mary in the Morning
Weekdays 5 to 9AM
---
Totally Mary!
It's possible, I'm either savvy or messy, but some of these items I have had AND have been using, for way way way too long….according this article! How often do you replace your household goods? Household items
---
More About Mary
Born in:  Hartford Connecticut, the Nutmeg State.
Pets: 2 Kitties.  4 year old tabby named Milo the man of the house,  and Slash, one year old Diva
Favorite Food:  COOKIES…….. oh, AND Steak and potato
Favorite Drink: Black Coffee
Favorite STAR artist:  Daughtry
Actor/Actress:  Kathrine Hepburn
Movies:  Bird Cage and Hangover
TV Shows:  Blacklist/Marvels/Biggest Loser/Vanderpump Rules/Amazing Race/Housewives of ALL County's (guilty pleasure)
First Album Purchased:  DYNOMITE or Shawn Cassidy, I should've Da Do Ran Ran back THEN!
Celeb You'd Most Like To Meet:  Dave Grohl, Jimmy Fallon and Channing Tatum
Ideal Vacation:  Hiking the entire Long Trail.
Favorite Place in the Champlain Valley:  Snake Mountain in Vergennes
What would you do if you weren't on the radio? Be in a soap opera, be the next Food Network star or working at a local bank where my working career all began.
Band You've always wanted to see?  I feel blessed to have seen my fav's!  U2 and Jimmy Buffett..
Something You do too much of:  Watch reality TV
Yankees or Red Sox?  #33 SWISH!  YANKEES!!