Ken Barlow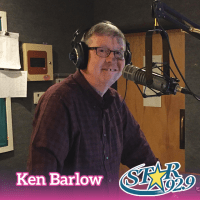 Ken Barlow
---
Do people really read these things?
I am a native Vermonter born and bred in Springfield. I love getting on the air every night! . There still isn't anything I'd rather do. Being on Star is fun because the signal is huge and people in so many different places listen to us. The audience is terrific and show us tremendous support in everything we do!
A little more about me.
I am a fair-weather boater. I eat the same thing for lunch every day…a turkey sandwich, pretzels, a Kashi Bar and a piece of fruit. I drive people crazy singing along to music in the car.
My fav artists?
Katy Perry, Adele, Maroon 5, Train and definitely some of the retro stuff from the 90's.  . I always know the notes but seldom can sing the words…even though I have played most of these songs MANY times!
Okay, enough about me. I'm really just a guy who's been lucky enough to find a job he loves!
See you on the air when it's dark!