Hey, it's John Mullett and I'd like to share the whole process I went through to install and use solar at my house to cover 100% of my electric bill. If I learned one thing in the process…it's easier than it sounds and frankly quite a bit more affordable as well.
I have been interested in green energy for years and had been interested in doing solar for years, I love the thought of creating a greener and more efficient way to live life. But I can't claim to be that much of an environmental hero, like everyone, I am really looking to save some money. So Like I said, I had been interested for years, but thought it was out of the question for several reasons. I thought I couldn't afford it, I thought it would be inconvenient maybe leave me without power at times, I thought it might be high maintenance. Finally though I decided to pursue it, still thinking it wasn't a possibility. Several of my friend highly recommended Green Mountain Solar, so I gave them a call.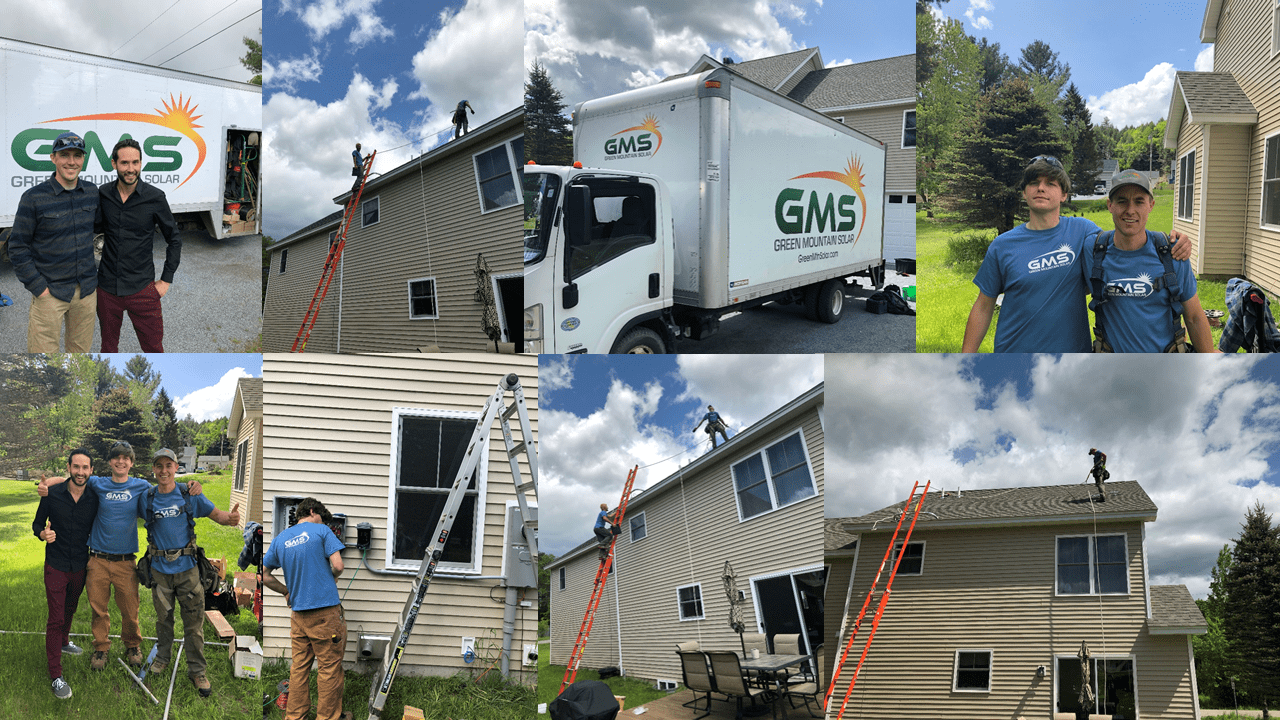 First Home Visit
Within a week of calling Green Mountain Solar, they had set up an appointment with me to come check out my home and see if it was a contender for solar power. The owner of the company himself (Paul Lesure) came out to do the site visit. Instantly I felt at ease with Paul. He was friendly, incredibly knowledgeable and most of all…not pushy at all. He made it clear instantly that this was not a high pressure sales situation. He basically said, I will answer your questions today, lay it all out for you and you can decide if it's right for you. It was refreshing!
After doing a good bit of inspection with some very cool tools, Paul sat down with me on my back porch to answer all the questions I had. I asked him all the questions I had and he gave me simple and understandable answers. I'll let you in on what I learned 😉
How does it work, can I be left without power? Paul explained very simple that I would be set up with a net metering system. Meaning I would still be tied into the regular grid. So on the sunny days when I wasn't using much power, my panels would feed back into the power grid and I would receive credits from Green Mountain Power. It makes having solar seamless and the solar would completely take the place of my power bill.
Will they be high maintenance? This was another concern I had, however modern panels are pretty easy, no shoveling or anything to really worry about. What made me feel even better is that Green Mountain Solar stands behind the build for 12 years and LG (the brand of panels we used on my house) stands behind the panels for 25 years.
But can I afford it? That was the big one for me, rumors lead me to believe that financially it wouldn't be possible but I was completely wrong. Not only was the total job less than I thought but I learned how amazing the options are when it comes to the financial side of things. Some people chose to just pay for the job outright. I chose though to use VSECU and the amazing Green Loan Program that they partner with Green Mountain Solar on. Basically at a very reasonable interest rate, they loan the money (for a duration you choose). I chose 12 year and with the 30% tax credit that means my loan payment is the same as what my power bill would have been. And in 12 years I will NOT have any bill for electric anymore.
Uploaded by John Mullett on 2019-06-12.
Moving Forward
So after the house visit, Paul quickly got me a detailed proposal highlighting everything I needed to know both logistically and cost wise. It was very to the point with no fine print…love that. He still was very low pressure and just sort of sent it over and said, think about it and let me know if you decide to move forward or have more questions.
I decided to move forward and sent him a $300 deposit to get myself in the project cue…note this is the only money out of pocket I spent on the ENTIRE install. I also got my financing setup with VSECU which tool all of about 20 minutes.
Install Time
My install date came, they did the project in just ONE day. Absolutely no disruption. They only shut my power off for about 30 minutes. It was amazing and the whole crew was kind, personable and respectful of my home. They showed up at 8:30am and were done right around 5pm. New system in place and generating electricity! It was such little hassle for me. I live a pretty busy schedule and sometimes projects can really be a scheduling nightmare, this was so incredibly easy thanks to Paul and his team at Green Mountain Solar.
Living With Solar
What can I say? It is awesome and seamless. I now pay for panels that I own and am no longer giving money to my electric company that I will never see again. Green Mountain even installed this very cool device called "Sense". It Pairs with an app on my smartphone. It gives me real time updates on my electrical usage, what appliances are using it, and even tells me what my solar panels are generating. A real dream for a tech geek like me J
I am so happy that I decided to move forward with getting solar on my house and I am thankful I chose to do so with Green Mountain Solar. I couldn't have asked for a simpler, smoother and more pleasant process. Give them a call, they are low pressure, easy to work with and just overall good people. 802-369-9149 or www.greenmtnsolar.com.