I never realized how very different one car rides to another until I test drove 6 of them with-in two weeks. Three in the same day!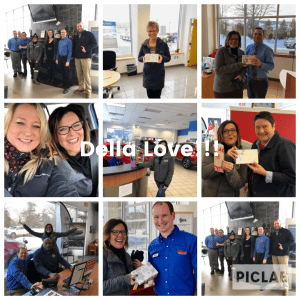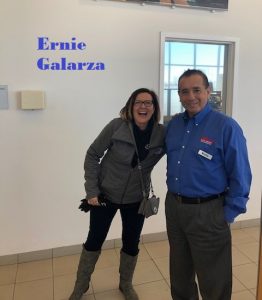 Meet Ernie Galarza!
The past couple weeks, I stopped by DELLA Dealerships in Plattsburgh, bringing them candy and flowers for Valentines day and test driving the different SUV's they have at their Dealerships.   I even tried a snowmobile, which would pair nicely with one of these SUV's for a crazy day on the trails.
I'm excited  to share my experience with you, mostly to encourage you to give yourself time to choose the right vehicle. It really needs to feel right for you and your lifestyle!  DELLA is a great place to start! SO many different dealerships with different vehicles within a few miles, some right next to each other! In one day you can test drive enough cars to make sure you're in the right one!
DELLA is the Dealership to trust with your decision! I hope I convey that in my blog! Friendly, fun people at all the dealerships and yep, they answered my questions with what I expect out of a car and what I need and what I'm looking for in performance and reliability!
Let's begin:
DELLA Kia My first test drive was the Kia Sportage.  I am all about "compact". Don't let that fool you with this compact SUV is AWD vehicle. It handled smooth and  felt very safe for winter driving. . You know, where it says compact car, yea, easy parking! THAT's important to me. I felt safe on the snow covered roads that day.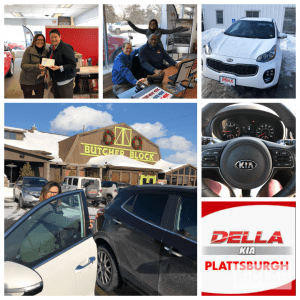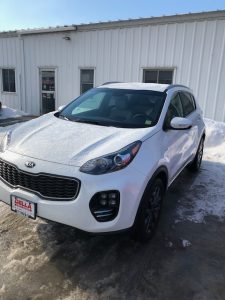 Created with Movavi Video Editor Plus https://www.movavi.com/video-editor-plus/?c=veplus15
Meet Jean Worland, she's the Sales Manager, she chose the Sportage for us to tool around in.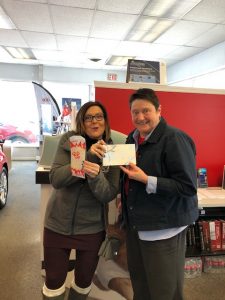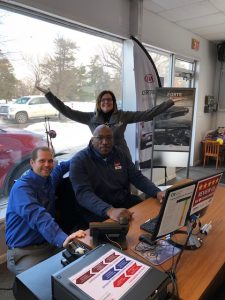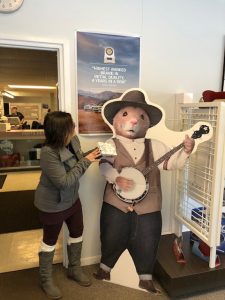 Mike and Corey had bright personalities. Mike made sure I understood everything about the Sportage before we drove off.  My favorite part about the Sportage beside how compact, safe and affordable it is… The Dual Heating system in the front seat. I LOVE it really warm and my friend Karen was hot and needed a cooler temperature!  We enjoyed our day with the Kia Sorento from DELLA kia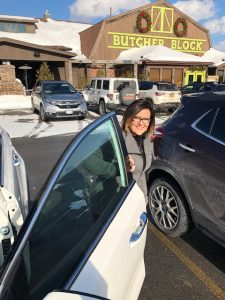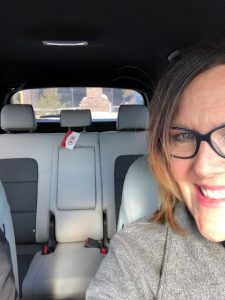 Next, it's off to DELLA Subaru . I've always loved Subaru's and I was anxious to test drive the Subaru Forester.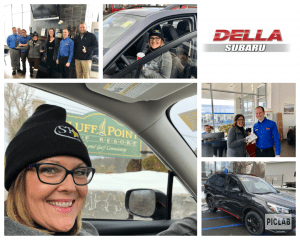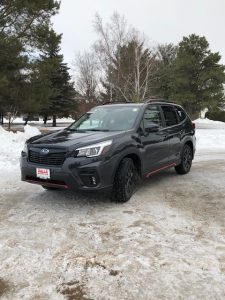 Created with Movavi Video Editor Plus https://www.movavi.com/video-editor-plus/?c=veplus15
We took it out and tested it on the snow packed roads of Bluff Point! This car didn't miss a beat on the slippery ride to the cross country ski trails.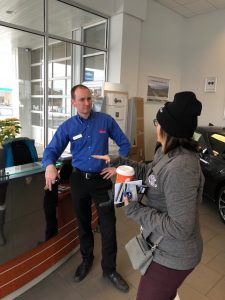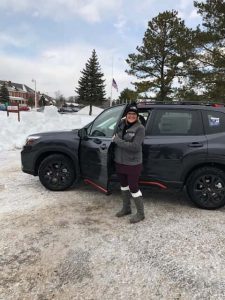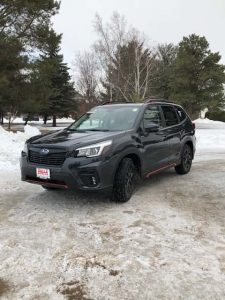 Meet Brian Chambers, he made sure we were set up nicely for the "Sport" edition of the Subaru Forester! This car was rock solid and ready for the toughest terrain but still like a car you can take around town and back and forth to work. Tons of room to throw in skies or camping equipment. We hit some snow packed roads at Bluff Point and didn't have a problem getting through them. The lane assist on the Forester is that subtle hint to keep you in line and is a nice feature to have in a car that, I feel like, is great for an active lifestyle. Lots of traveling with gear for outdoor activities. Camping, hiking, mountain biking, kayaking and the Subaru Forester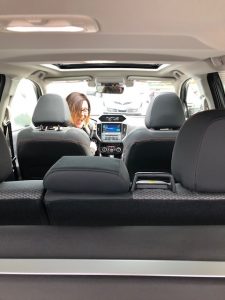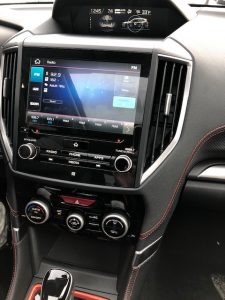 Next We're off to DELLA Mitsubishi for a drive in the luxurious Mitsubishi Eclipse Cross…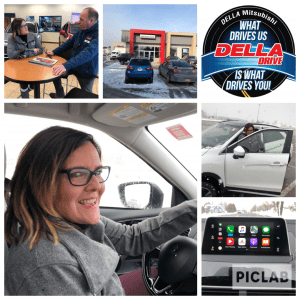 Created with Movavi Video Editor Plus https://www.movavi.com/video-editor-plus/?c=veplus15
You know the sporty Eclipse! This is the SUV version! Luxury is what I think of first. The pop up hologram made it easy to see my speed at all times. it's a window that pops up over the steering wheel and displays your speed.  VERY comfortable, handles like the sporty Eclipse but all the safety of All Wheel Control. Classy looking car with a price tag thats not intimidating.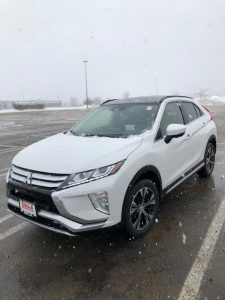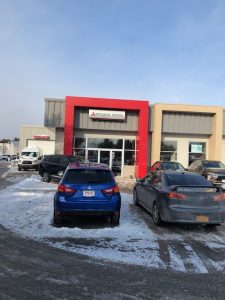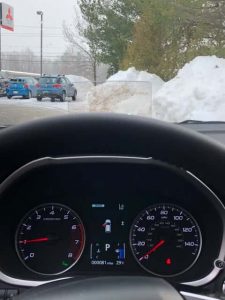 Meet Jim Goss, General Sales Manager.  He has so much enthusiasm that he takes the phrase "Knowledgeable Staff" and makes it "Fun To Learn From Staff". Didn't know, Mitsubishi was the first vehicle to introduce the 'All Wheel Drive'.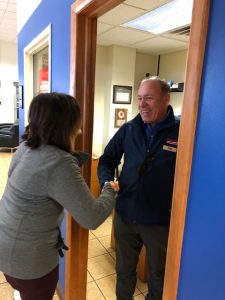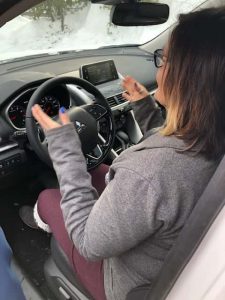 More Candy and Flower deliveries for Valentines day  and another test drive … DELLA Toyota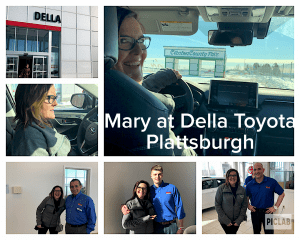 No Description
This time its the comfortable, ready for any adventure RAV4! The seat adjusted like sinking in a soft couch. The RAV4 was the most comfortable to sit it.  It handles like a small car.  We got lost and had to make a quick turn and found the turning radius the best I've seen.  No "K" turn, we did a U turn and made it in one turn.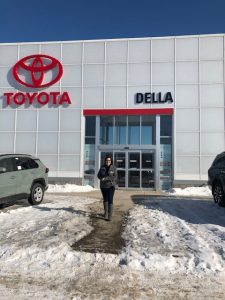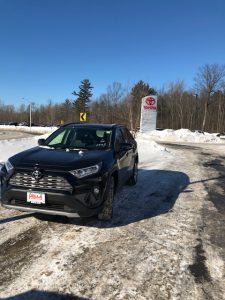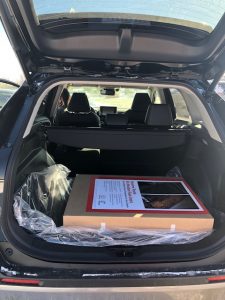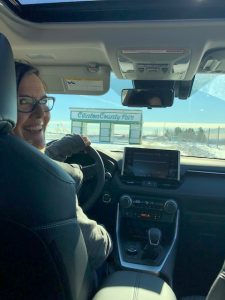 Now, surprisingly  we have boxes of chocoate left so we continue to share the love with DELLA at DELLA Honda!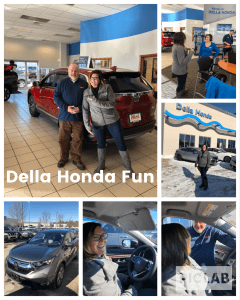 Terry and Noel were happy to share the choclate we brought by for Valentines day and it was time to find out what car I was lucky enough to test drive.
Created with Movavi Video Editor Plus https://www.movavi.com/video-editor-plus/?c=veplus15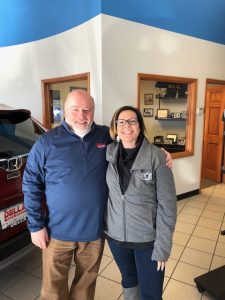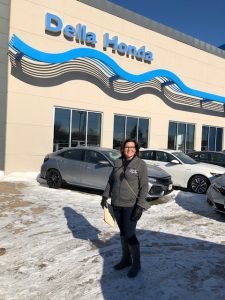 After I mentioned my love for the outdoors and how I drag my friends out with me, into the middle of nowhere for a hike or snowshoe. It was the CRV! This SUV had the most room in the back.  And the CRV seemed to glide over any bumps in the road.  I'd say the smoothest ride. And, of course with the back up assist, perfect parking job. I also appreciated the collision mitigation.  It's exactly what it says, it will warn you when you're too close to another car or object.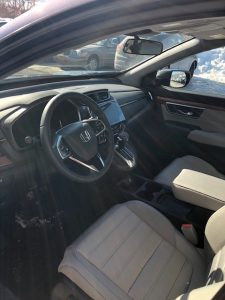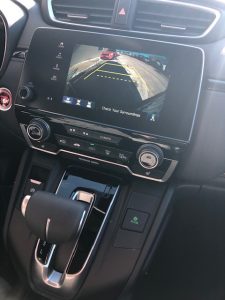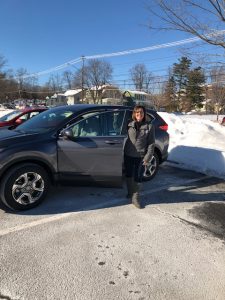 Now off to the ACTION part of DELLA, DELLA Motorsports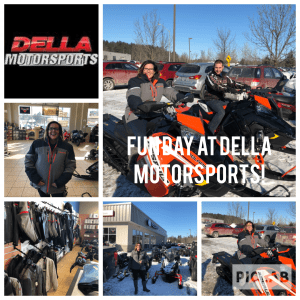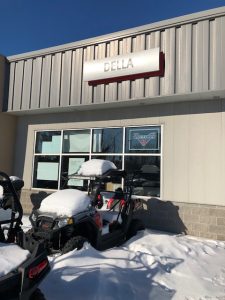 If it looks like I'm meeting a puppy dog for the first time, you're right!!   I was introduced to the Polaris Assault….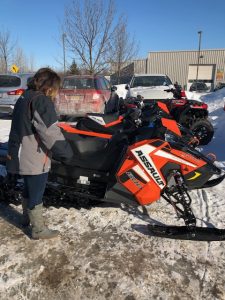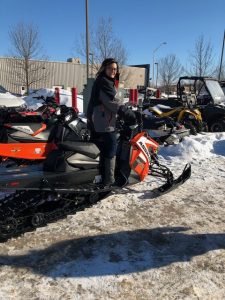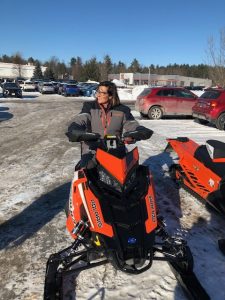 Sean Shambo was very patient with me explaining the amazing abilities of the Polaris Assault.  VERY patient! He had to start it for me!
From tooling around the parking lot to traveling through the hills of Up state New York or Vermont cutting Trails, the power behind the Assault would make any snowmobile ride thrilling. Maybe too much for me to start, but Sean was happy to tell me that there are different types of snowmobiles to match the different levels of snowmobiling! Is there one that's tow behind, it is called a "sled" after all. After sitting on the Polaris Assualt, I now get the thrill of an action packed afternoon riding with friends! DELLA Motorsports has all the accessories to go with your snowmobile adventure. Helmets, warm jackets like the one I'm wearing, gloves, hats …. you think of it, DELLA Motorsports has it!