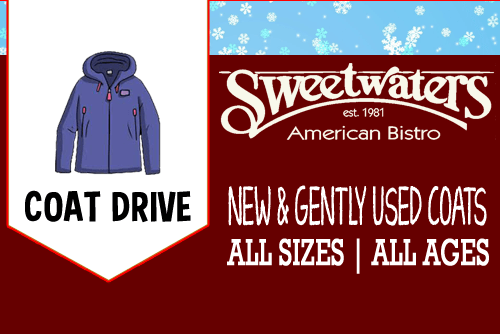 Sweetwaters has been the host for our community's most celebrated dinner. Our Thanksgiving Day gathering has become a cherished tradition for many volunteers and guests. We are proud to be celebrating our 28th year welcoming guests in for a traditional holiday meal,  great conversation, and good laughs. For the past two-plus decades, Sweetwaters has opened our doors to anyone who would like to join us for dinner on Thanksgiving Day. We begin serving at 10 am and look forward to seeing both familiar and new faces each year. Many guests are in need financially, some are students who can't get home for the holidays and others have recently lost family members and friends. A common purpose amongst everyone, including volunteers, is the feeling of togetherness and community. Sweetwaters gets over 100 volunteers throughout the day who serve, cook and clean. Many of them have been volunteering for years, and now do so with their kids and other family members. Many volunteers include those who have joined us in the past for dinner and remember how it feels to be in need and desire to give back. The day starts off with a coat drive. Last year, people started lining up at 8:00 am and in 1½ hours we gave away 1000 coats.
How can you still help?
Please drop your clean, warm, gently worn winter coats off at the Windjammer restaurant or, on the same premises, the Windjammer/Best Western Hotel, 7 days a week 24 hours a day up to Monday, November 19th or Sequoia Salon in Burlington, VHB in the IDX Building in S Burlington (during normal business hours)  and the Williston Central School during school hours. Coats can also be dropped off at Sweetwaters Restaurant from Monday, November 19th- Wednesday the 21st. Please try to avoid drops off during the middle of lunch and dinner. We are always in need of size x-large and will also take donations for hats, gloves, and socks.
Food donations: Baked goods such as pies, cookies, and cakes are always welcome. Starting the Tuesday before Thanksgiving right up until Thanksgiving morning we'll be accepting baked food donations. No need to call, just stop by Sweetwaters.