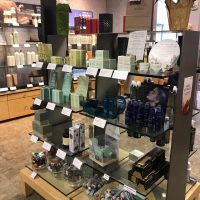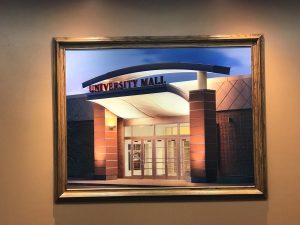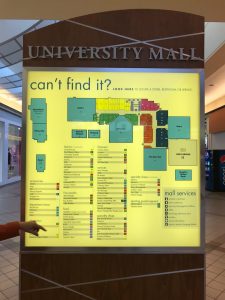 I'd like to invite you along on a journey at University Mall for a fun, stress free holiday shopping experience! I know, Holiday Shopping, Stress Free? If I didn't experience  how easy it was, "I" wouldn't believe me!  AND convenient with a safe easy place to park and warm dry place to shop for everyone on my list! Within this journey,  I have  great ideas for people who are hard to buy for!  Practical gifts that are unique in their appearance.
Lets begin with a nice ice coffee from Dunkin Donuts! With their holiday flavors, I was fueled already with a great attitude!  Peppermint mocha for me please?  Then I hit up the Kiosks! So many great ideas for my family! Adorable ornaments personalized with the names of family members!  Gifts that will be handed down for generations! The grilling spatulas with some favorite sports teams logos, that will cause a bit of conversation around the dinner table! Cozy wooley socks and the poop emoji hats and sox!  HILARIOUS!!  This guy, he'll always be the "poop emoji" guy! you'll check a couple of names off your list here: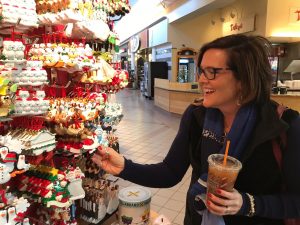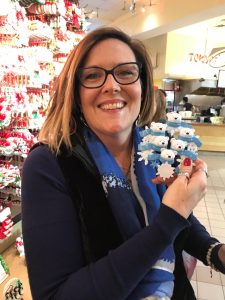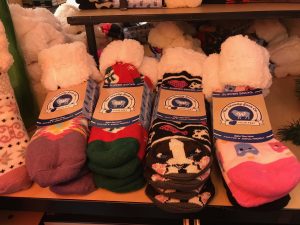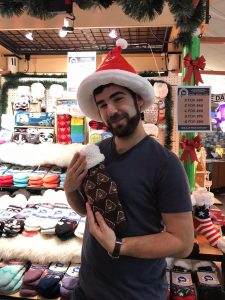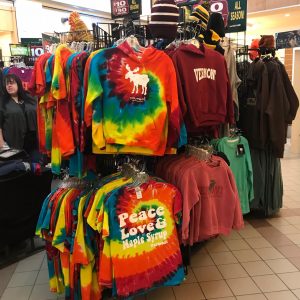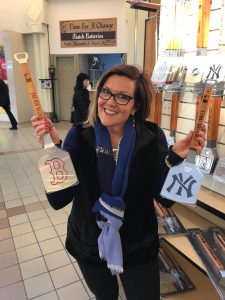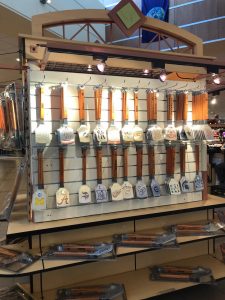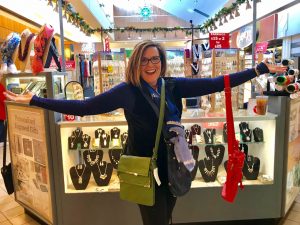 It was hard to choose which cross body bag to grab, so I got one of each! I definatly have women on my list who will love this and I got a scarf to match! The deals were to good pass up! Now on to the Vermont Craft Show shop!  Creative Artistic works of magic! The Maple Syrup Bird Feeder capture all of our attention!  Especially Yvonne Brown, our photographer for the day! Yvonne Brown Photography!!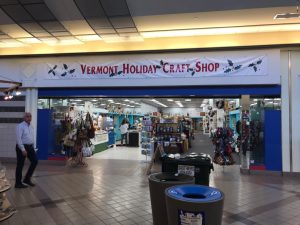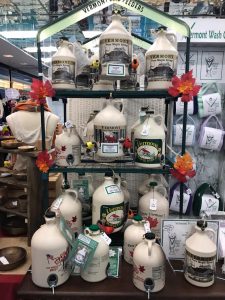 I was very interested in these wood crafted bowls!!  #beautifulthevermontway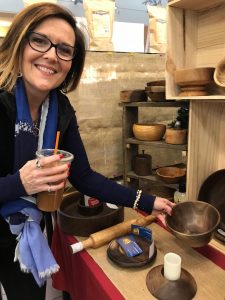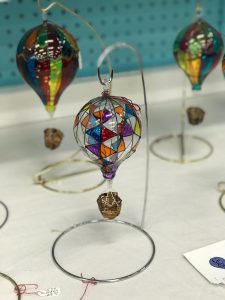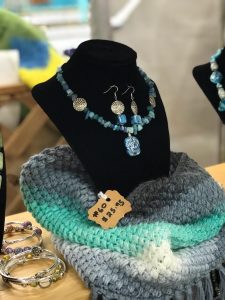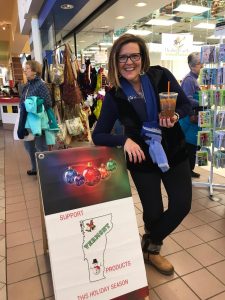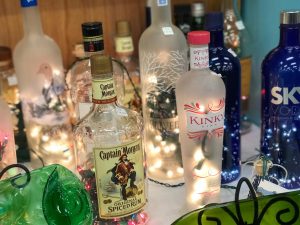 Onto Victoria Secret and Bath and Body Works! I have an inside scoop for you… VS and Bath and Body are moving AND expanding to FYE…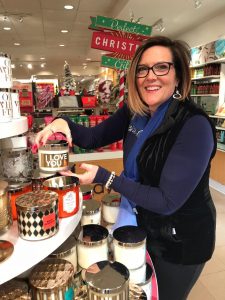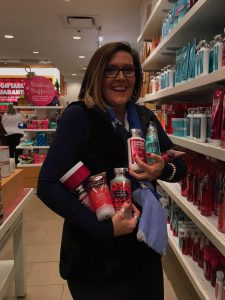 I had some quality time with Santa!  Santa will be at Umall through-out December! Check out Umall's Facebook page  for times..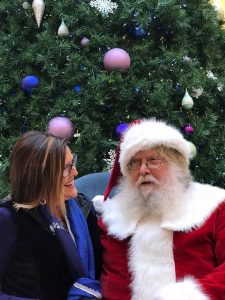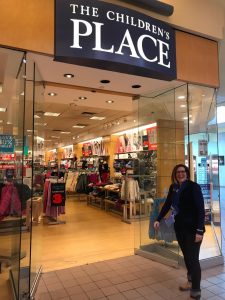 Santa brings kids the fun stuff, I went to the Childrens Place for the practical items.
Hallmark for cards and collectible ornaments! AND BOXES of cards for binge Christmas Card mailing. AND I found Elf on the Shelf!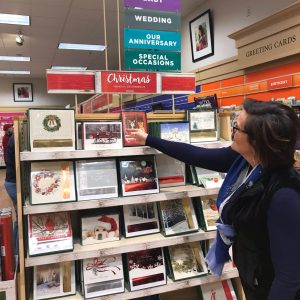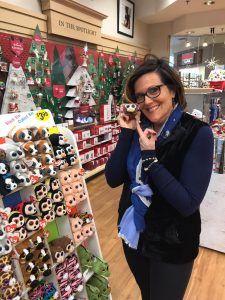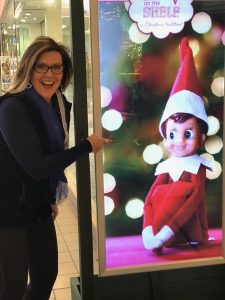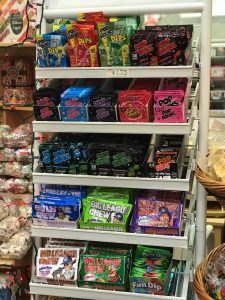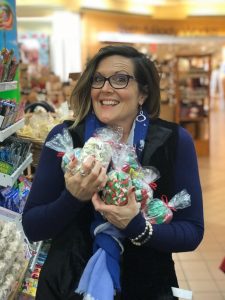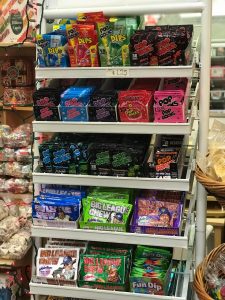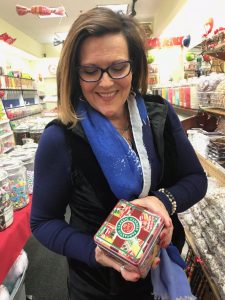 Candylicious caught my attention for Stocking Stuffers and Secret Santa gifts! Look at this Old Fashion Box of Candy!  WOW!! Ribbon candy? Do YOU remember Ribbon Candy? Then on to Claires for the perfect holiday earings and accessories like BIG SANTA tie… Go big or just don't go, right? Bring on the Christmas bling!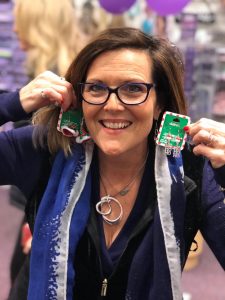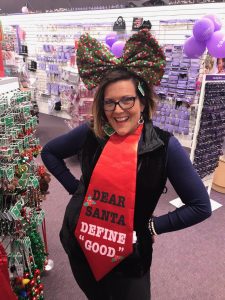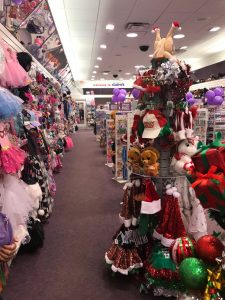 For a timeless gift from Vermont, you can't go wrong with Dansforth Pewter!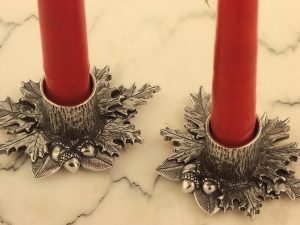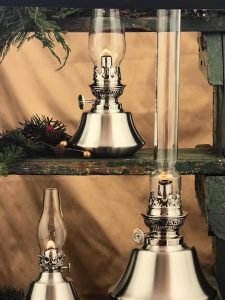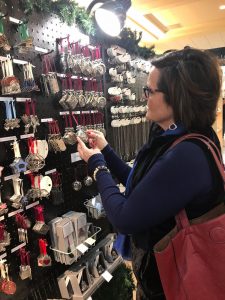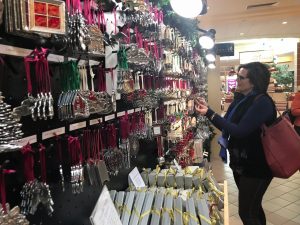 The gift of health at GNC and a gift in a box for foodies at the Kiosk across from VS!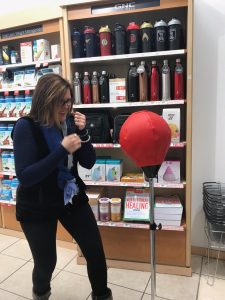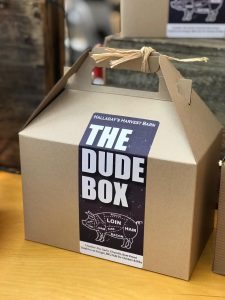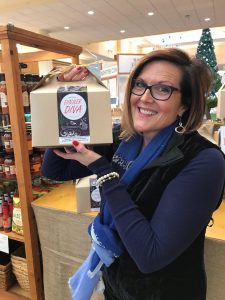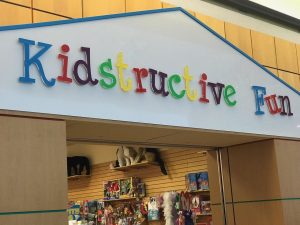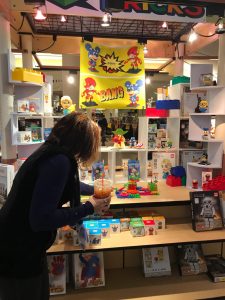 Kidstruction has so many learning toys that I couldn't pull myself away from! Speaking of kids,  Kays has the St. Jude Bears fundraiser! Kids and Adults alike could find some holiday joy cuddling with one of these sweet bundles of fur!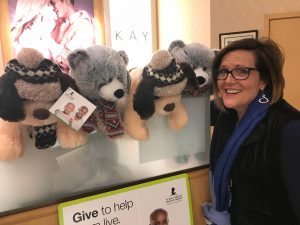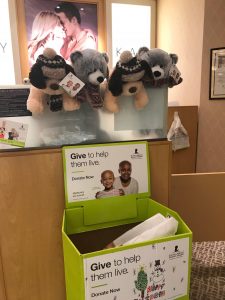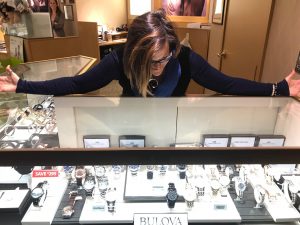 Watches! Watches are so handsome and are making a come back, perhaps they really never left!  yep, I got behind the counter at Kays!
There is no doubt, Umall has so many places for stylish trends!!  We hit up all the stores! Things for Kids, Teens, Adults, for Holidays and Winter Vacation.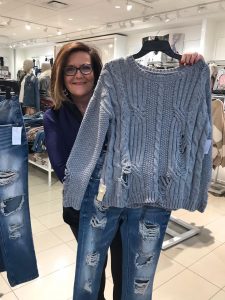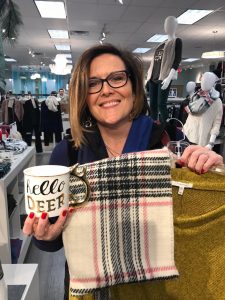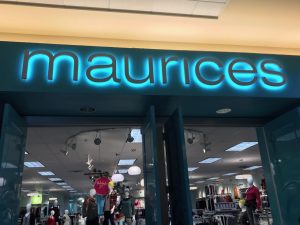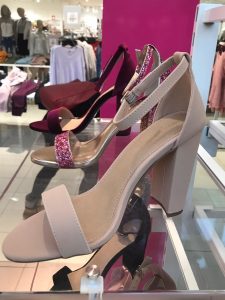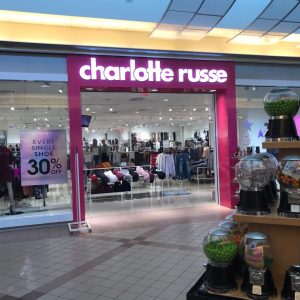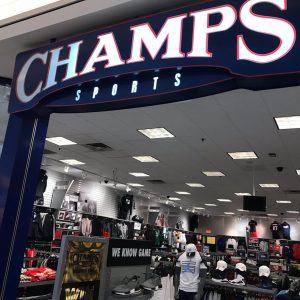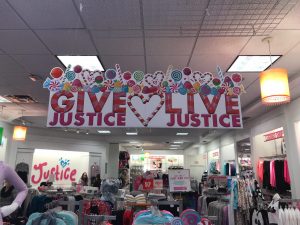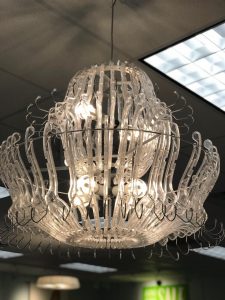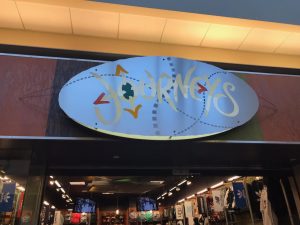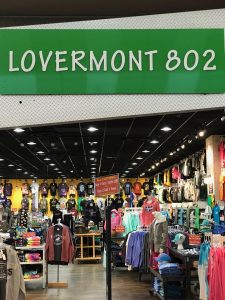 Getting hungry! We met up with some friends before JCPenny and Kohl's and grabbed a bite to eat in the food court! Can't pass up on good conversation during a much needed break from shopping in a warm place with lots of options. Including a stop at Auntie Annes.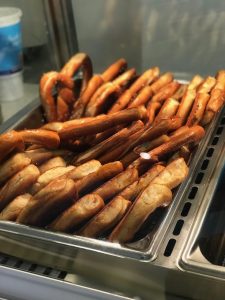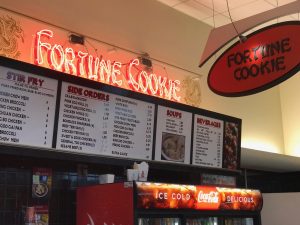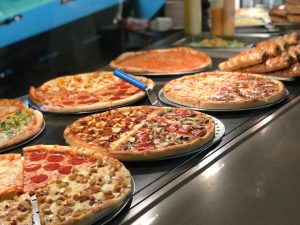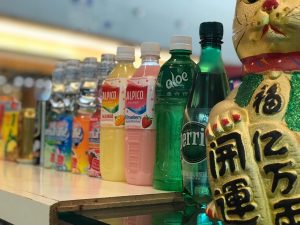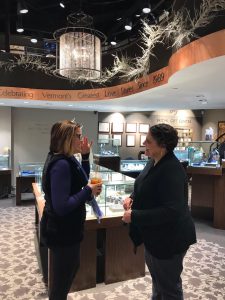 During our break with our friends that met up with us at University Mall, I was reflecting on my wedding and remembering After Midnight Jewelers, where I got my wedding band and here I'm gazing at the pearl necklace I bought my Mom as gift for all she did for me and our wedding…  They are a very kind and helpful staff!
JCPenny, Here we come… I found some nice sweaters for my husband, and beautiful pair of boots for, um, me and I stopped into Sephora for a new scent! Now, THAT was a tough choice. I found some great secret santa ideas too for the women in our office!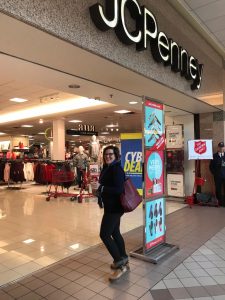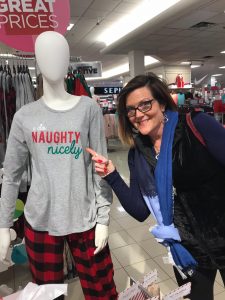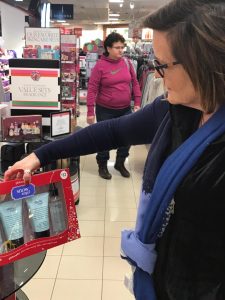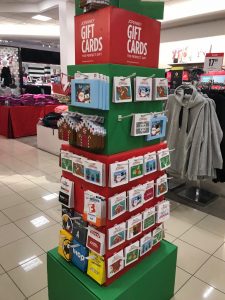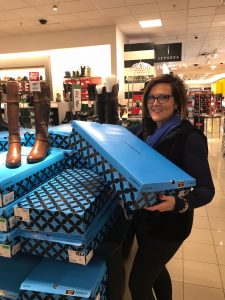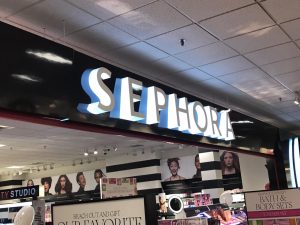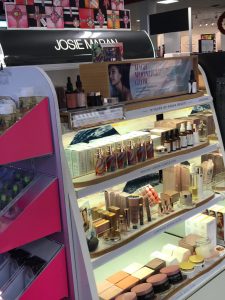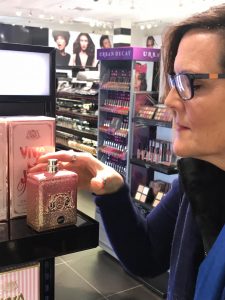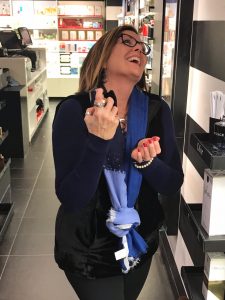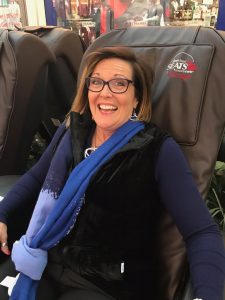 All those decisions called for a well deserved chair massage!  yes, Umall has a place to rest your feet and recharge! Knowing I had an event that evening, I took time to visit O'briens Aveda Salon for a blowout! And noticed all the wonderful products they have for gift baskets for Christmas.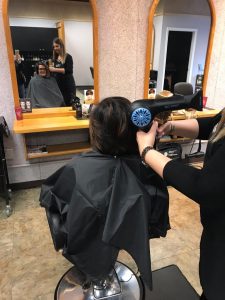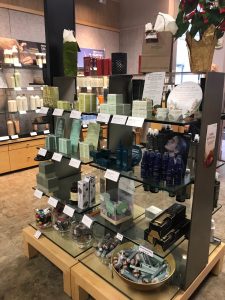 Now off to Kohl's for a few gifts for friends. One is a foodie, I found some great new copper pans and the "My Pillow", they have it there! I've seen the guy on TV enough, now I can try it. And they have a whole big section for kids and look for the sign "Presentville" with the Abominal Snowman sitting under it, you'll find plenty of great gift ideas!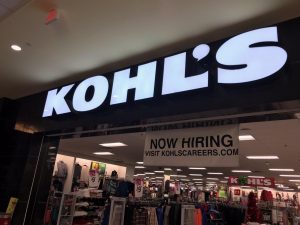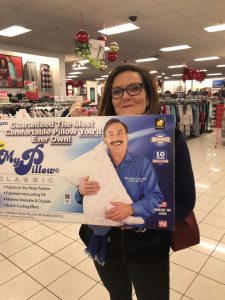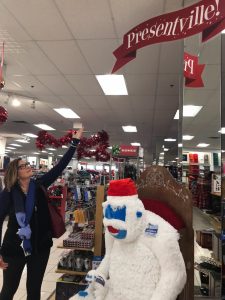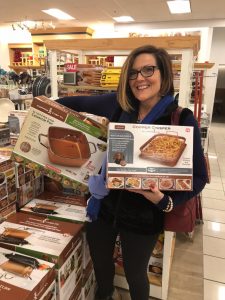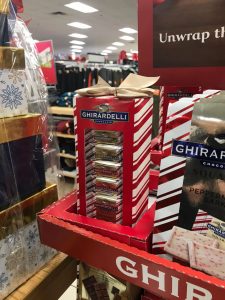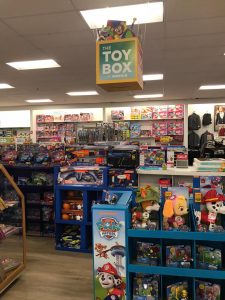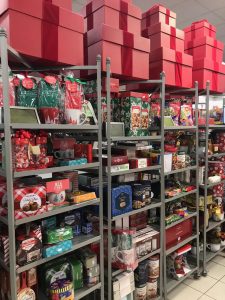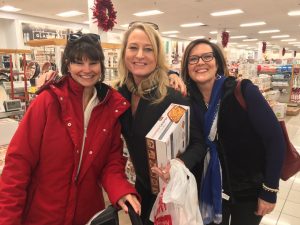 Ran into some friends and finished my day out with dinner at Applebees! But not before a stop at "The Awesome" shop for a custom designed airbrushed T-Shirt and some fun in the University Malls "PHOTO BOOTH"!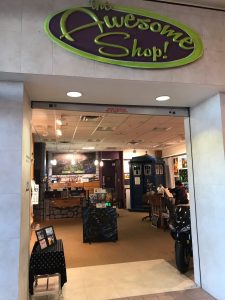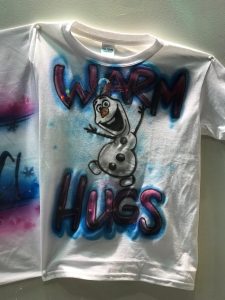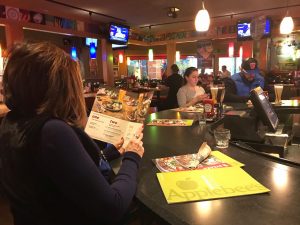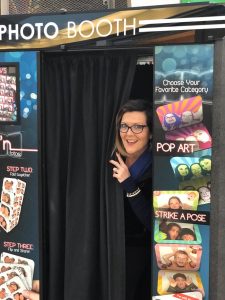 If you feel like hiding from holiday shopping, you only need one day to get everything you need at University Mall!. Umall's Facebook page has gift ideas that will surprise you! And hopefully this experience will help you too! Friends meet up at here to hang out and gather for a community day of shopping and socializing! Its also perfect if you need a quick gift or new outfit for an event, it's all here.  University Mall, Dorset Street South Burlington!
I'd like to thank the beautiful talented Yvonne Brown Photography for her amazing talent and playfullness!  Lori Barlow for being a part of the fun. Karen Lougee for the invitation to represent University Mall,  Heather Tremblay for their opening their doors to Umall for us to invade!!