Your Party Weekend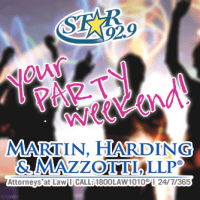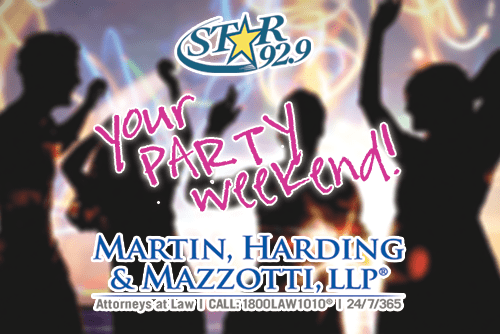 Star 92.9 kicks off YOUR Party Weekend every Friday at 4pm with Chantal!
We toss in some of the biggest hits from back in the day. You know, YOUR music. Feel free to sing along, with no cares!
Your Party Weekend continues into Saturday Night to include "Roundtrip with Dave O" and "Backtrax USA – the 90's with Kid Kelly" and all the way into Sunday night.
Now, go get that hairbrush!
Your Party Weekend is presented by the law offices of Martin Harding & Mazzotti. Now with offices in Plattsburgh, Burlington, and Manchester (VT). Call the heavy hitters 1-800-LAW-1010. Phone lines are open 24/7/365.
Your Party Weekend shows DJs!
Daly Download with Carson Daly
Backtrax USA – The 90s with Ked Kelly