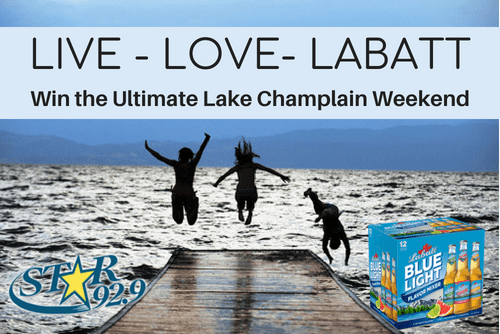 Win the Ultimate Live – Love – Labatt Weekend on Lake Champlain with Star 92.9
Get ready for summer fun with Live – Love – Labatt and Star 92.9.
Throughout the summer we'll be at great locations in both Vermont and New York giving you the chance to win prizes on site and get qualified to win the grand prize.
At each stop we will give away a pair of tickets to a great summer concert, like Taylor Swift, Ed Sheeran, and Charlie Puth. We'll also be giving away lots of Labatt swag, movie passes to Essex Cinemas and Cumberland 12, Gift Certificates to local businesses, and more!
The Grand Prize is the Ultimate Lake Champlain Weekend!
Hotel Accommodations in downtown Burlington
Dinner Cruise on the Spirit of Ethan Allen
Paddle Boarding Lessons on Lake Champlain
Bike Rentals for biking on the Burlington Bike Path
Rock Climbing Adventure at Petra Cliffs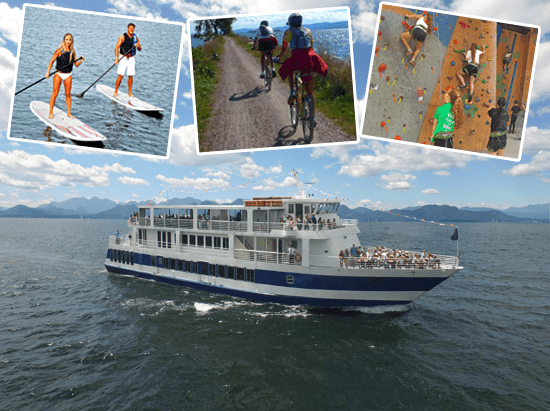 Join Star 92.9 at these locations this summer…
Friday, Jun 29th from 4 pm to 7 pm at Shaw's in Williston
Wednesday, July 11th from 4 pm to 7 pm in Plattsburgh at Market 32
Wednesday, July 18th from 4 pm to 7 pm in Plattsburgh at Buck's Discount Center
Wednesday, July 25th from 4 pm to 7 pm in Plattsburgh at Richard's Beverage Center
Wednesday, August 1st from 4 pm to 7 pm in Plattsburgh at Northern Cakes
Wednesday, August 8th from 4 pm to 7 pm in Williston at Hannaford
Wednesday, August 10th from 4 pm to 7 pm in Burlington at Market 32