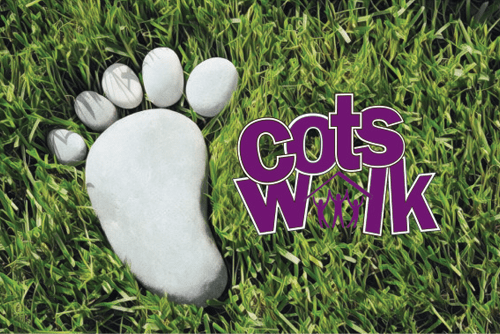 29th Annual COTS Walk
SUNDAY, MAY 6, 2018
CHECK-IN BEGINS AT 1 P.M., AND THE WALK STARTS AT 2 P.M.
The annual COTS Walk is a 3.5-mile trek (a shorter 1-mile route is available) around downtown Burlington that starts from Battery Park and follows the path a person experiencing homelessness might travel to connect with COTS shelter and services. This is the one day of the year COTS opens our program spaces to the community so people can see how their support makes a difference.
Check-in begins at 1 p.m., and the Walk kicks off at 2 p.m. Walkers head down the Church Street Marketplace, up Main Street and into surrounding neighborhoods. Along the way, walkers are invited inside of COTS' numerous buildings.
The Walk takes about 1-2 hours to complete, ending back at Battery Park where walkers are met with music and Ben & Jerry's.
The goal is to raise $200,000 to support COTS shelters and services in the upcoming year.
HOW TO PARTICIPATE
Walk as an individual: Register now. Then, receive a Walk Pledge Packet. Set a fundraising goal for yourself and begin collecting pledges from friends, co-workers, family members and neighbors — in person or online. Bring your pledges to the check-in tent on Walk Day and join in as the crowd departs Battery Park.
Be a Team Captain: The Walk is especially fun if you form a team and walk with a group of co-workers, friends, family members or your social or religious organization. Give your team a name, make signs or costumes or come up with another creative way to identify yourselves as a Walk Team for COTS. Our photographer will be there to snap your team photo!
Take the Challenge: Set a goal of raising at least $1,000 as an individual. (COTS Walk Challenge teams aim to raise $2,500 as a team.) A generous grant matches Challenge Walk donations up to $15,000. Also, Challenge walkers who meet their goal will receive exclusive COTS logo gear, and Challenge Teams receive a framed certificate and special recognition at our Annual Meeting & Volunteer Appreciation Breakfast.
Register Online Now or contact Sian Leach at (802) 864-7402, Ext. 207 to register over the phone.